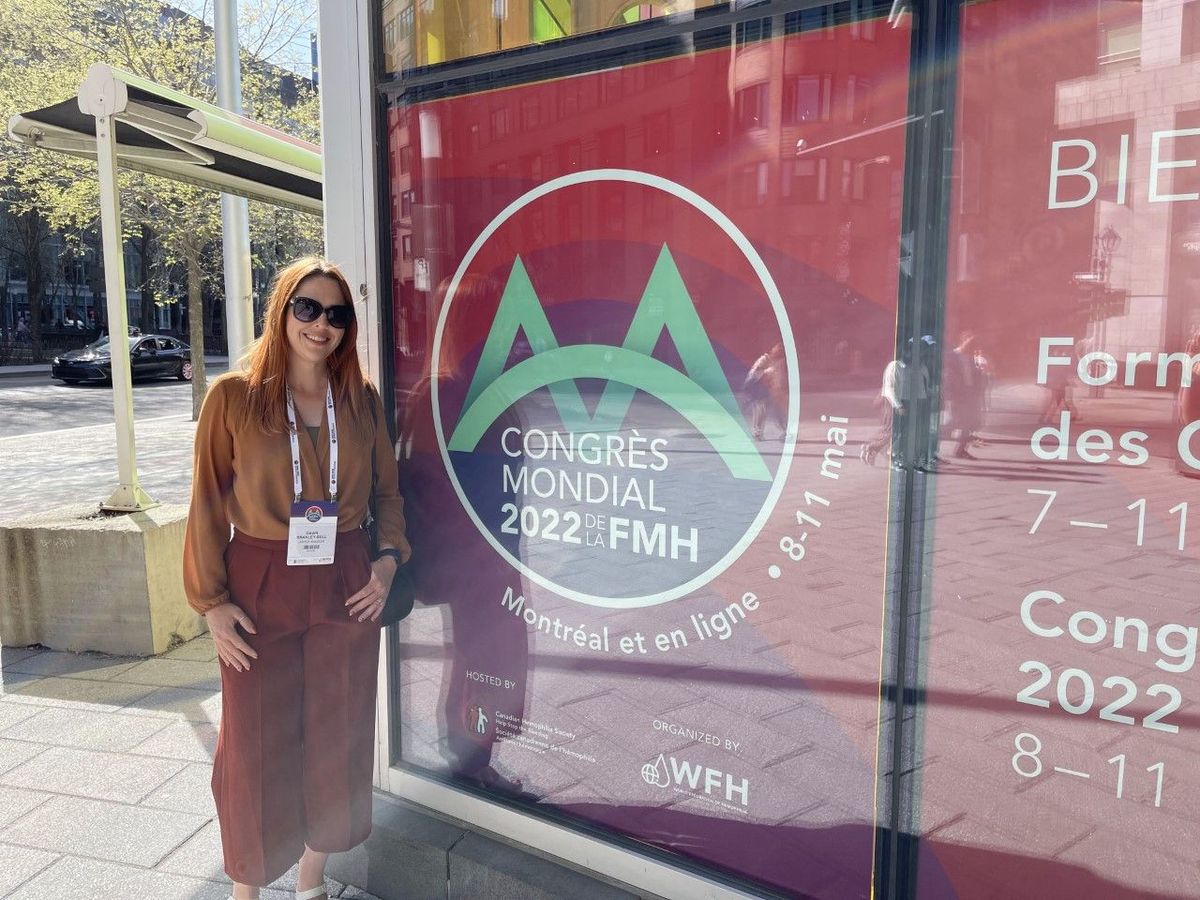 Last month Dr Dawn Branley-Bell, one of our Centre for Digital Citizens' Innovation Fellows, delivered an invited guest talk at the WFH (World Federation of Hemophilia) World Congress in Montreal, Canada.
The WFH World Congress is a major event within the global inherited bleeding disorders community. Established in 1963, the WFH comprises of a huge global network of national member organisations encompassing 147 countries.
The World Congress attracts attendees from across the globe, including medical professionals, government officials, scientists, hemophilia organisations, individuals with hemophilia and other blood disorders, researchers and academics. It aims to discuss and learn from the very latest developments in healthcare and treatment, to move ever closer to the WFH's aim to ensure effective hemophilia treatment and care for all.
This year, the World Congress was held in the beautiful city of Montreal, within the impressive Palais des congrès (Congress Palace) – ranked as the leading international conference centre in the Americas.
Dr Branley-Bell's talk "The positive side of social media: Feeling connected" focused on the way in which social media platforms can be utilised by healthcare service users and service providers in relation to a wide range of mental and physical health conditions.
During which she encouraged the audience to critically evaluate public and media perceptions of social media, and demonstrated how social media can be instrumental in promoting social connectedness and support, greater healthcare self-management and empowerment, and increased engagement with healthcare services.
Dawn discussed her work with the Centre for Digital Citizens and Northumbria University's Psychology and Communications Technology (PaCT) Lab, and also her work as a Medical Research Foundation Fellow. As Chair of the British Psychological Society Cyberpsychology Section, she was also delighted to introduce a new audience to the field of Cyberpsychology.
She would like to thank the attendees at the World Congress for being so engaged with the session and for their enthusiasm to learn more about this field of research.
If anyone wishes to reach out to Dawn directly, she can be contacted via email at dawn.branley-bell@northumbria.ac.uk or found on Twitter (@TheCyberPsyche).