Can you tell us a bit about your background and how you got involved with the Centre for Digital Citizens?
With a professional background in software development within the computer games industry I have closely followed the growing interest in games for change, where gaming technology is utilised to positively impact society.
Working at the Centre for Digital Citizens was an opportunity to leverage this experience while collaborating with researchers who have experience engaging citizens in important societal issues. I am particularly interested in emerging technologies like virtual reality (VR) and believe it can play a significant role in promoting civic participation. The immersive nature of VR can enable individuals to participate in new ways, potentially finding a draw for new generations of people to get involved in the debate.
Tell us about what you worked on for the Centre for Digital Citizens and what are you hoping to explore through this research?
In collaboration with Patrick Dickinson at Lincoln University, we examined the potential of virtual reality (VR) as a platform for civic discourse. Our investigation focused on the rising popularity of social VR applications and their potential as a direction for the Metaverse.
We aimed to understand the impact of existing social media use and how it might be influenced (positively or negatively) through embodied VR experiences. We believe that incorporating social media into VR can enhance the connection between technology and real-life experiences, and enable individuals to better integrate their online social media presence into virtual reality allowing them to present their best selves.
By exploring the potential of VR as a space for civic discourse, we hope to foster more inclusive and engaging forms of online civic debate.
So far, what are some of the highlights from the projects you worked on?
In our journey of creating our study inside social virtual reality, we encountered the unique challenge of coordinating participants around a virtual environment. This led us to explore the dynamics of how people move in groups together in virtual reality.
As we delved deeper into this topic, we discovered new insights into the mechanics of teleportation-based locomotion. Innovation can arise from unexpected sources and an open-minded approach and collaboration in a diverse project like CDC can be rewarding.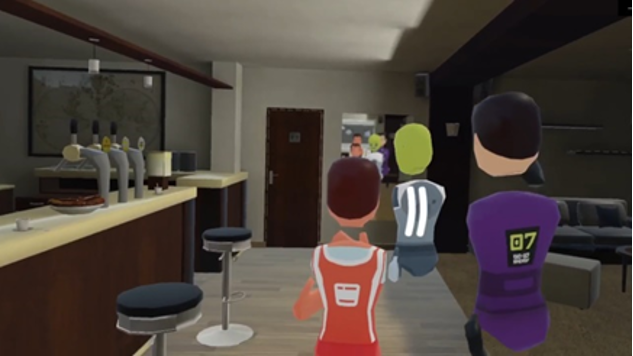 How does this work feed into the wider themes of the Centre for Digital Citizens?
As researchers, we have varying interpretations of what it entails to be digital citizens. In the realm of virtual reality, we hold the belief that individuals can assume any identity they wish and present their best selves.
Although individualist approaches has been subject to criticism for its potential lack of "meaning", we ventured into the virtual reality landscape to explore how social media could be reimagined and presented in novel and constructive ways.
How we engage with social media online is important, since it can shape our lives giving us access to new opportunities (such as connecting with organisations, individuals or like-minded people). Among other findings, our experience within this digital environment not only found new ways that citizens might draw from but also provided valuable insights into the importance of self-expression around their digital selves.
What are the future plans for the research?
At the heart of the CDC initiative lies a commitment to open-platform and open-governance principles. As such, we are not only publishing our work but also our software (ensuring transparency and inclusivity).
Our aim is to enable interested parties to explore the potential opportunities in this field, not just in terms of promoting civic engagement but also by highlighting other innovative outputs, such as the unique new social mechanics of teleportation mentioned. We are currently preparing to present our work to students at Newcastle High School for Girls, where we will demonstrate what we think are new exciting ways to look at STEM, while we hope to use the visit as an invaluable source of feedback on our project.