Each group set a challenge for the other group to make something for them which was given as a gift over a 10 week period. The two groups communicated via video messages, and exchanged gifts on a day trip to Beamish Museum.
Workshops were run and supported by Henry Collingham, Jayne Wallace, Jill Brewster, Rickard Whittingham, and Sebastian Prost. Dovetails was also given invaluable support from Johnny Hayes, our technician in Northumbria's Design School.
What they made
On a cold December morning, around 40 people met in the Orchard Cottage's allotment garden at Beamish to see what the groups had made for each other.
They showcased four beautiful pieces:
'FlexiGames' is a modular playset, which can be used to play football, cricket, rounders, target practice, as a shadow puppet theatre, to make dens and more. Made for Kids Kabin, by Beamish Men's Group members: William, Alan, Brian, and Ray.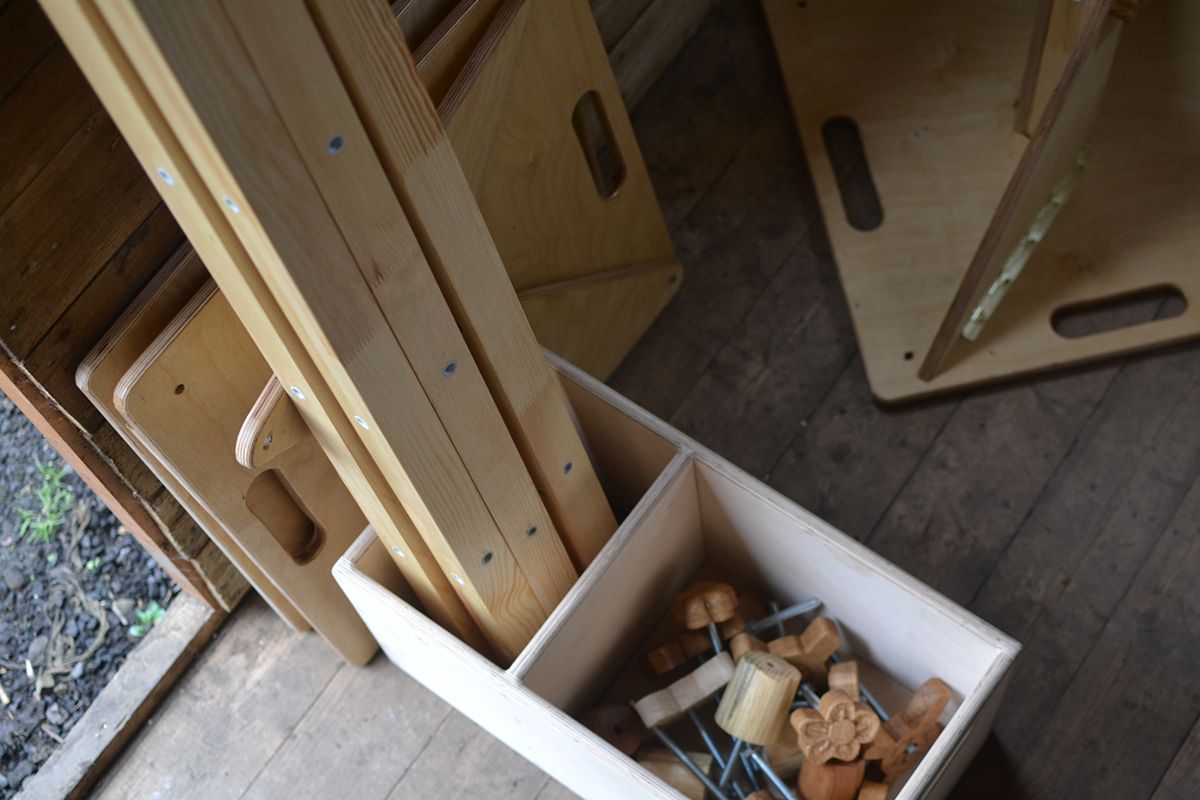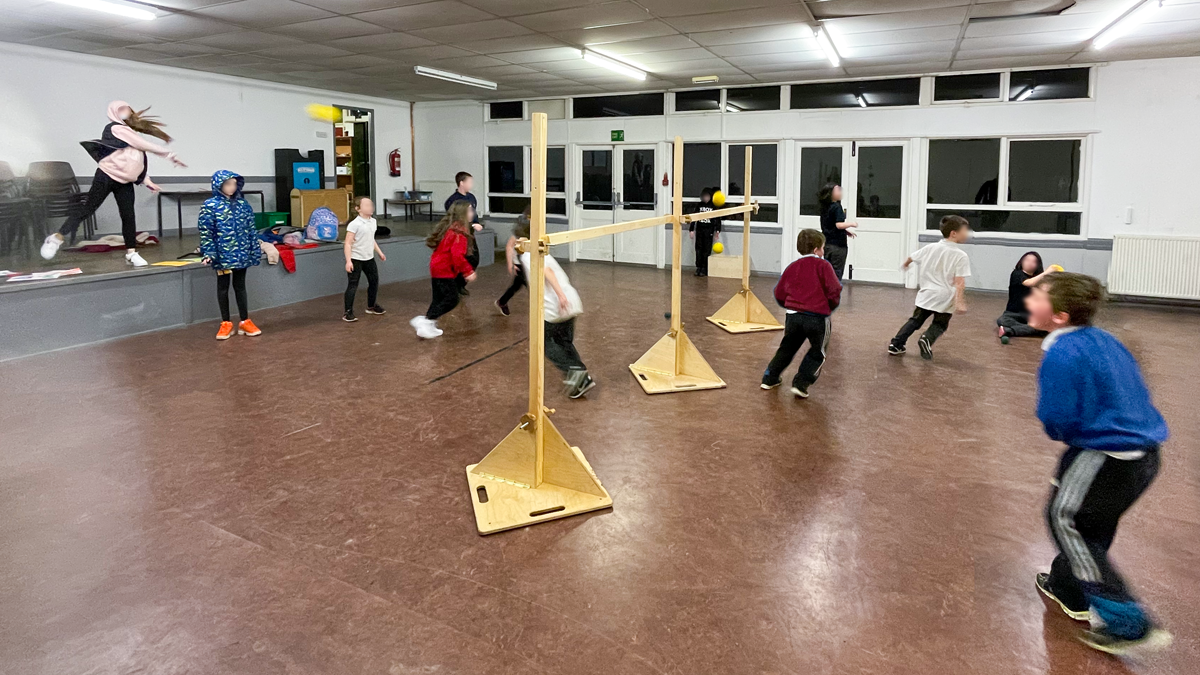 Tambour Door Tool Cabinet was designed to fit perfectly onto Kids Kabin's workbench at Cowgate with a rolling 'garage' door bearing the names of Beamish and Kids Kabin. Made for Kids Kabin, by Beamish Men's Group members: Les, Fred, and Joe.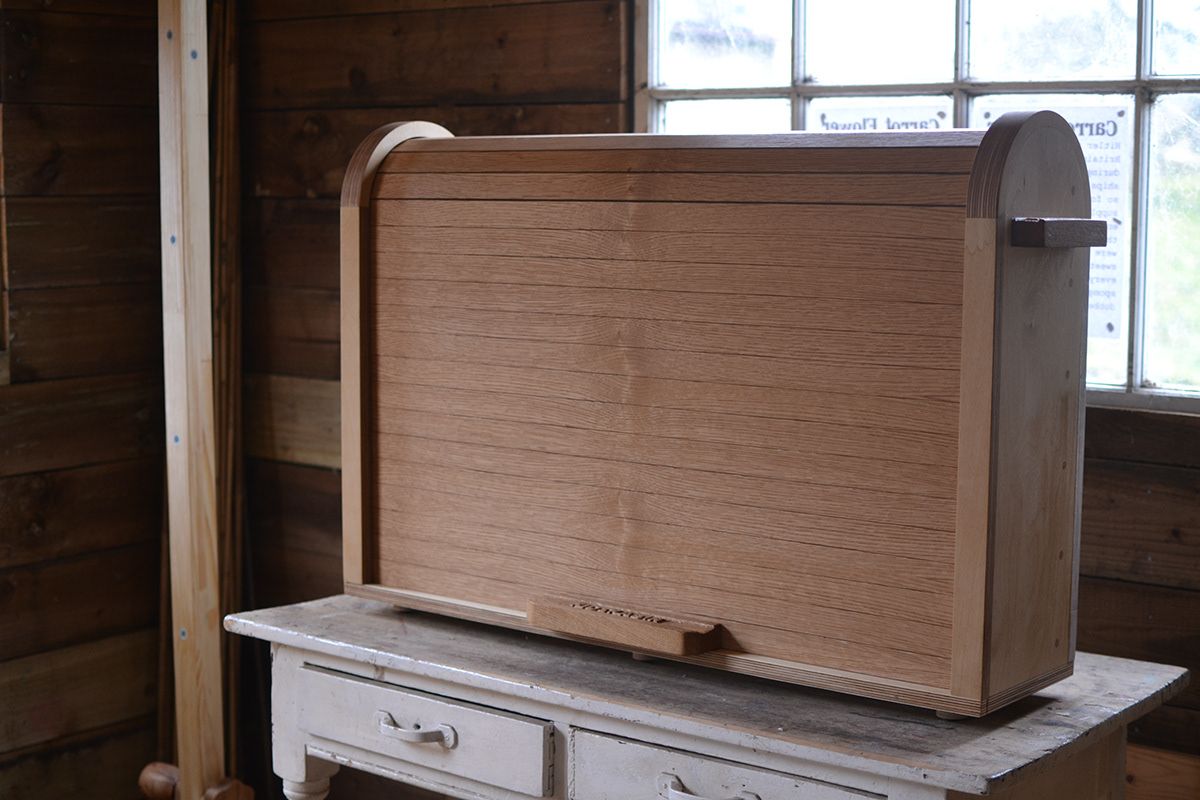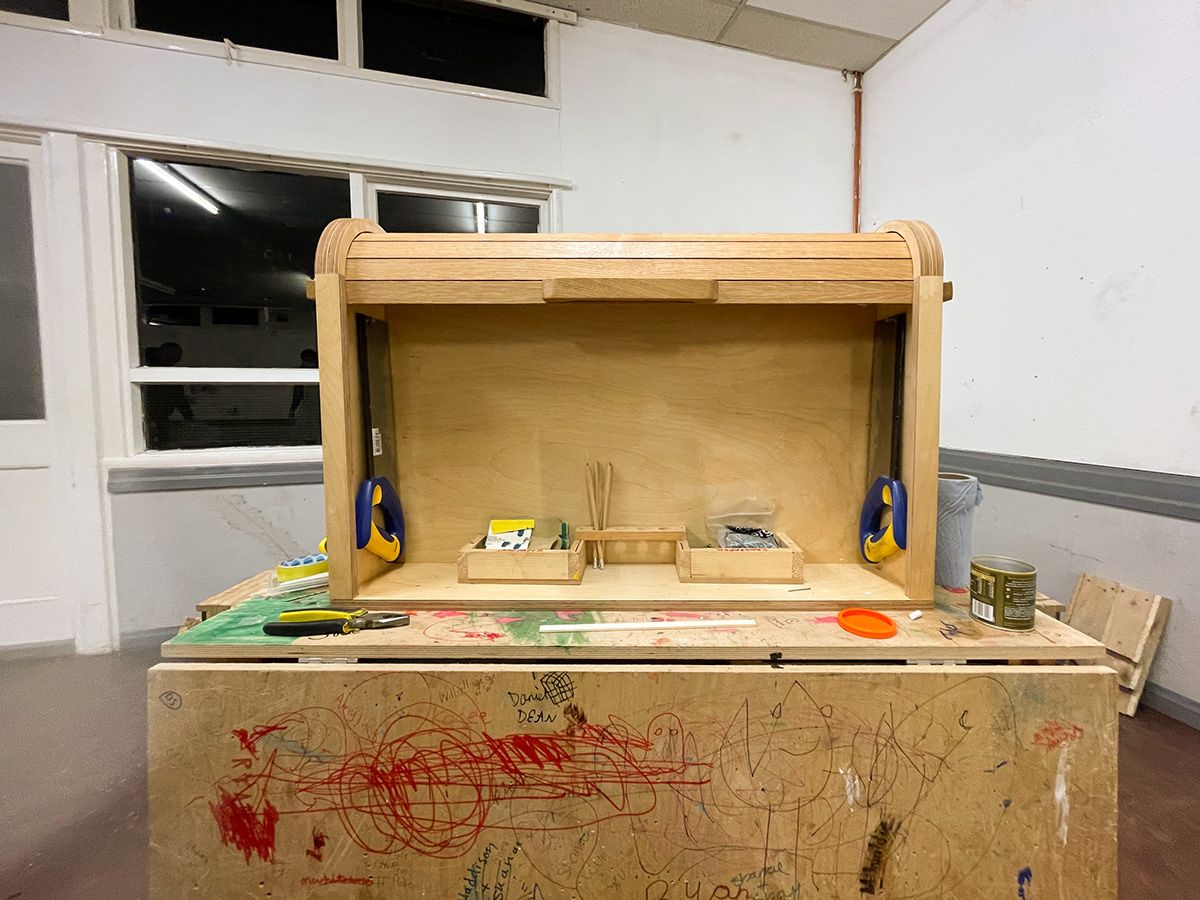 'Our Lucky Shelves'. Lucky from Kids Kabin chose to build a storage solution for the Beamish boys' messy Men's Group's shed. The cabinet allows the Men's Groups to store their timber laterally along the shed wall in four generous compartments.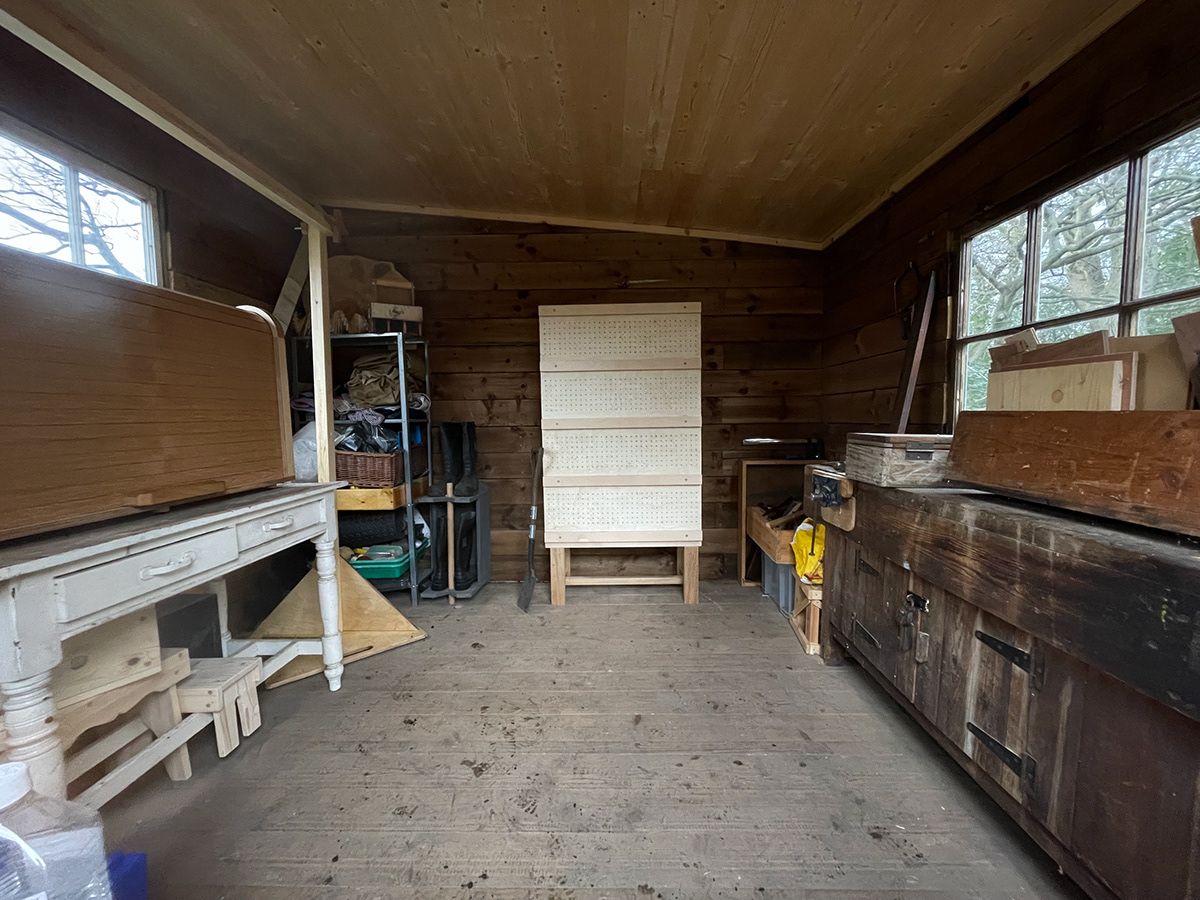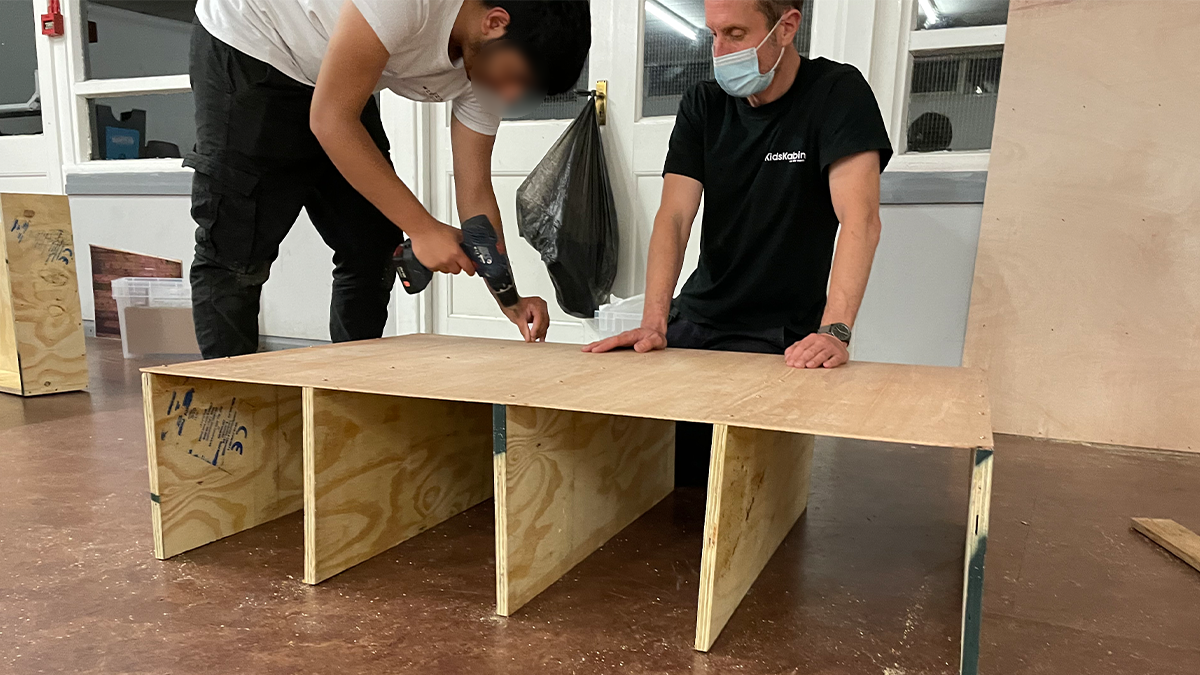 The Carved Garden Bench, a charming iroko bench tattooed with over 10 Kids Kabin members' favourite things, their experiences of Beamish, and imagery from the Men's Group itself, as well as the name of every Men's Group member, past and present. Made for the Men's Group's garden, by over 10 Kids Kabin members.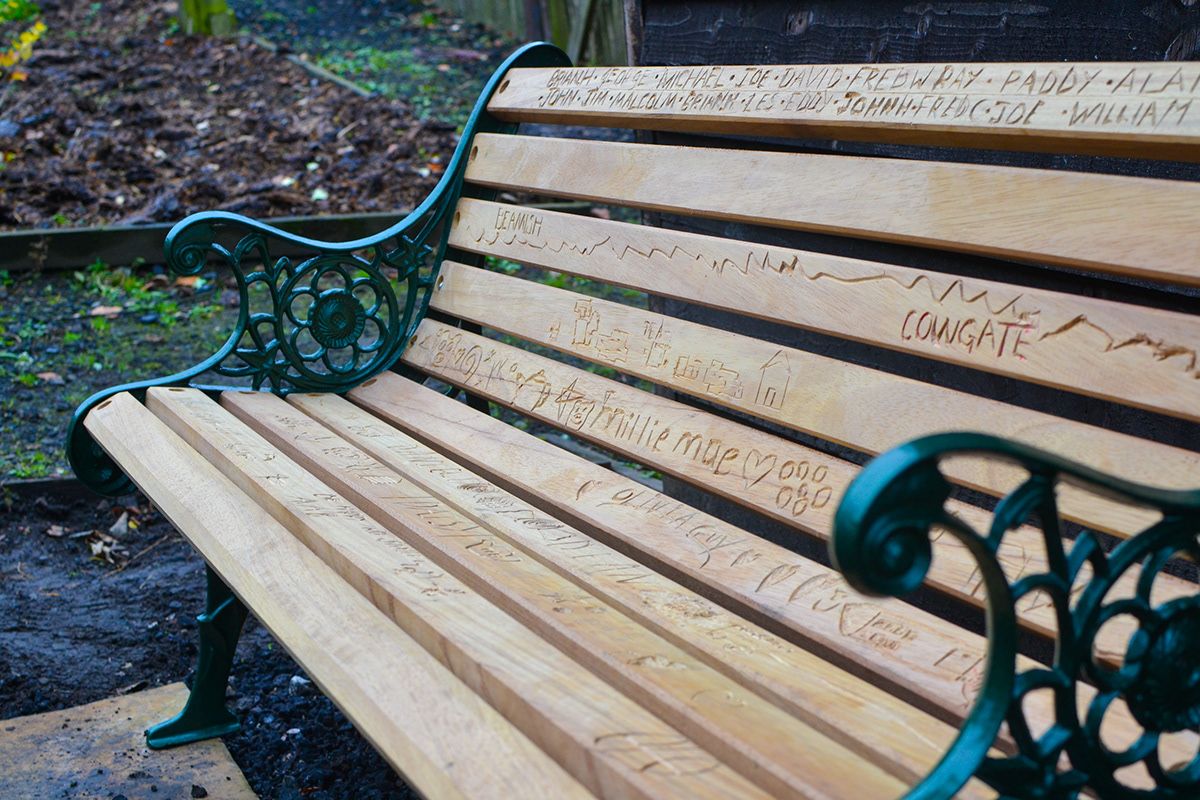 "I think I can safely say that everyone in the Men's Group has thoroughly enjoyed working on this project. It was great to be set a 'challenge' and to work together to problem solve.  The groups were really inspired by being able to make something that would be used by Kids Kabin, and then being able to actually meet the children and show them what they'd made at the end was the icing on the cake! It's been a massive boost for the men's self-confidence and a great way to get to know each other, as we've had quite a few new members since the summer." - Health and Wellbeing Co-ordinator at the museum
Collaborating through creativity
Creativity and making are important acts of expression for groups like yours in our community. We want to find ways to support and grow these activities, and connections between creative groups through making.
We are looking at ways children and older adults can collaborate through crafted design work as engaged members of the local community.
Based on principles of learning, sharing, and linking communities, each group made short videos of their ideas, prototypes and progress and shared these throughout the project.
This process inspired new ideas and product improvements and built a virtual 'making' relationship between Beamish and Kids Kabin.
Partners: Kids Kabin, Beamish Museum